Description
MISSION 781 SPEAKERS
The 781 loudspeaker is a compact system designed to mate perfectly with the Cyrus electronics.
With 18mm MDF and visco-elastic damping throughout, the 781's enclosure exhibits the structural integrity necessary for producing controlled bass and precise imaging capability from a small system.
The driver complement consists of a 7 inch polypropylene cone bass driver and a 3/4 inch fabric dome high frequency unit which combine seamlessly to yield clear and extended bass, rapid transient recovery and broad dynamic range.
Of all the aspects of sound reproduction, among the most difficult to reproduce are real world dynamics.
The range of sounds from the softest to the loudest must be kept in correct proportion to each other. It must be able to respond with phenomenal speed and to handle bursts of power without strain. To meet these requirements, Mission has produced the 765.
This floor standing system utilises the drivers found in the 763 and 764, mounted in a slightly larger enclosure and with the addition of a second bass driver to increase both the system's sensitivity and bandwidth.
The 765 is capable of delivering the sheer power and majesty of a large orchestra or a high-energy rock band without exhibiting any strain or stress.
Specifications
Type: 2 way, 2 driver loudspeaker system
Frequency Response: 47Hz to 20kHz
Recommended Amplifier: 25 to 100W
Sensitivity: 90.5dB
Bass: 1 x 7″ cone
Tweeter: 1 x 3/4″ dome
Enclosure: bass reflex
Finish: black ash, rosewood, grey
Dimensions: 430 x 225 x 283mm
Year: 1989
MISSION 765 SPEAKERS
Enclosure Type:
2 way bass reflex 

hfdb.co/2304.php

Recommended Amplifier:
25 – 125 Watts
Frequency Response:
39Hz – 20kHz
Sensitivity:
92dB
Nominal Impedance:
4 Ohms
Drivers:
1 x 19mm fabric dome
2 x 210mm polypopylene cone
Dimensions:
250 x 1000 x 337mm 

(Width x Height x Depth)

Weight:
25kg
Year:
1989 – 1991
The Test of Truth  – Sound Quality
There are many ways to describe the sound of these Mission 765's. One of the most important things to realise, is that in every single case, all of the modifications resulted in a much better sound compared to the "older" versions. I often used to joke, that the only thing "Mission" about them, was the name badge, the instruction manual and the wood.
So, lets start on the simple aspects:-
Efficiency
These speakers are efficient. 1w gives you approx 92/93 dB. That's impressive as it allows you to play "real world" music volume levels with only small; 20-50 wpc amplifiers. The speakers are easily rated for 200w (RMS) and my 400w RMS Musical Fidelity monoblock amps worked superbly with them. As they get louder they start to really come on song. Good news is, those new bass units and the crossovers are an excellent match for high power music. Much less compression due to the cone and voice coil materials.
Now, onto the character:-
Treble.
Largely untouched except the change to crossover capacitors and wiring, the silk dome, ferrofluid, horn loaded tweeter was already rather special (used on the almost unobtainable Mission 767's) and didn't need any work. They are very revealing of all your sources. Although not tiring, they are incisive – i.e. you will hear all your music… all the time (and of your system isn't up to it, they let you know that as well). These tweeters are so good you will not want for more.
Mid-Band
Already a strong point, the midrange of the speakers (voices) took on a new character with the L22 bass / mid/range drivers. The aluminium cones are operated well within the linear frequency band and as a result, the voices, brass, guitar, etc are very clean and precise. Whole layers of "fluff" were removed when moving from the old drivers to the new. If you have experienced it, it's somewhat comparable (and more) to the difference between an average moving magnet cartidge and a good moving coil.
Bass
A lot of the modifications were designed to improve the bass quality (the quantity was always OK if somewhat over blown at times). The objectives were achieved… the lower registers reach very deep for a 50litre cabinet and the port tuning, new damping, revised crossovers and L22's all add up for a very fast, tight and great sounding bass. Driver excursion is always under control and the phase plug design helps reduce audible distortion. They go deep and sound powerful. !
MISSION 762i SPEAKERS
Classic British two way with 8″ woofer and 1″ tweeter.  They sound great for the price.   
"The Mission 762 is a fairly large bookshelf speaker. It was much liked by the British press when it was first launched and although close to 20 years on, still can serve a pretty good sound for the money. The thing we like about the speakers are their mid-range ability, wide soundstage and depth. Vocals were particularly forward sounding and imaged well when properly placed apart and on good, sturdy stands. Due to its ability to go fairly deep, a good stand can make a whole lot of difference.
This is a great all English speaker. Easy to drive, easy on the ear and easy on the wallet."
Type = 2-way reflex
Recommended Amplifier – output power = 25 – 125 watts/channel
Sensitivity = 92 dB/W/M
Frequency = 45+20k +/- 2.5dB
Nominal Impedance – 8 ohms
Finish – Black Ash
Size (HxWkD) = 20″ x 10″ x 10 3/4″
MISSION MV-C CENTER CHANNEL SPEAKER
Overview 
For twenty five years, Mission loudspeakers have been renowned world-wide for their combination of advanced technology and fine craftsmanship. Mission's MV series reflects that pedigree and commitment to excellence in every aspect of its build, quality and performance. The best result is a new generation of loudspeakers that combine gracious styling with beautifully finished real wood veneers and entrancing sound quality
The Mission MV-C Centre speaker has been fine-tuned by Mission engineers to meet the challenging demands of the modern range of AV, DVD and music formats. Whether your interest is in stereo music reproduction or multi-channel movie surround sound, any combination of MV series speakers will delight your aural senses. Their special combination of wide bandwidth and stunning dynamic range bring both music sources and movie sound tracks to life, allowing you to wallow in the passion, drama and excitement recorded on CD and DVD. Unrestrained sound quality and fine furniture looks, these loudspeakers will gratify the senses and are a natural choice for connoisseurs of music and movies.
Features 
Sleek and stylish
2 Way reflex centre speaker
Wide bandwidth and stunning dynamic range
Recommended Amplifier power 25 – 150 Watts
Specifications:
Frequency Response at 3dB: 85Hz – 20kHz
Dimensions (H x W x D): 150 x 460 x 170mm
Recommended Amp Power: 25 – 100 Watts
Enclosure Type: 2 Way reflex
Sensitivity: 91dB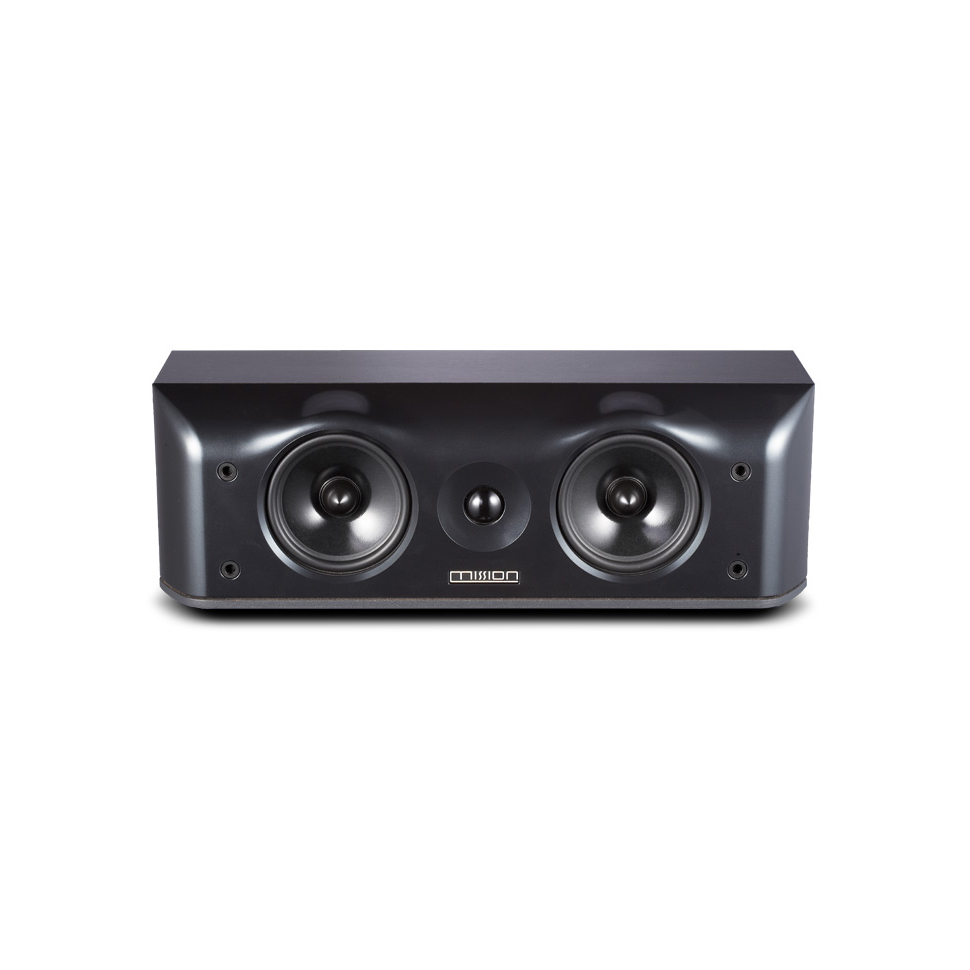 Pioneer SP-T22A-LR Add-on Speakers designed by Andrew Jones for Dolby Atmos,Black
Highly Acclaimed and Award Winning Speaker Series

Add-On top firing speakers to make any flat top speaker Dolby Atmos and DTS:X compatible

Concentric Driver including a 4" woofer and 1/2" tweeter for improved frequency response and sound placement in enabled Atmos and dts:x speaker configurations

Gold 5-way binding posts for more secure speaker wire connection

RF Molded Curved Cabinets to reduce internal standing waves
From the manufacturer
Adds Dolby Atmos capability to standard speakers

4″ Structured Surface Woofer

1/2″ High Efficiency Soft Dome Tweeter

80 Watt Power Handling
Pioneer SP-T22A-LR
Add-On Speakers for Dolby Atmos
Home theater enthusiasts are excited about Dolby Atmos' surround-sound technology, which creates a dimensional sound experience. That's why Pioneer created the SP-T22A-LR, a budget-priced add-on speaker for Dolby Atmos. The SP-T22A-LR builds on the success with the Dolby Atmos-enabled Elite Home Theater speakers and Dolby's proprietary surround-sound technology. The SP-T22A-LR uses an upward-firing concentric driver array to reflect sound off the ceiling to produce a truly immersive sound experience while integrating with your already established home theater system.
Taking Atmos One Step Further

The SP-T22A-LR is designed for use with the Pioneer SP-BS22-LR compact speaker and SP-FS52 floorstanding speaker (each sold separately), but is also compatible with most speakers that have a flat top big enough to fit the SP-T22A-LR. Add two or four SP-T22A-LRs, and a Dolby Atmos-enabled receiver, to upgrade your existing surround sound to Dolby Atmos at an amazingly affordable price.

The SP-T22A-LR elevates your home theater to a higher level of performance through the use of a two-way upward-firing speaker–in this case a concentric driver with a 1/2-inch tweeter mounted in the center of a 4-inch woofer. This arrangement allows the SP-T22A-LR to produce music and sound effects with greater realism and detail.

Thinking Out Of the Box

Even though the SP-T22A-LR is designed as an add-on speaker for Dolby Atmos, it's built like a true high-end speaker. The SP-T22A-LR has many of the same design features that made Pioneer's award-winning SP-BS22-LR compact speakers, a stand out for reviewers and consumers alike. Similar to the SP-BS22-LR compact speakers, the SP-T22A-LR's cabinet is curved, which stiffens the enclosure to help eliminate vibration. The result is accurate, tight, and more powerful bass.

More Than an Add-On Speaker

The insides of the SP-T22A-LR are just as sophisticated as the outside. These add-on speakers incorporate a unique multi-element crossover to send the bass and midrange to the woofer and the high frequencies to the tweeter. This advanced circuit tunes the SP-T22A-LR so it delivers the directional, focused sound required for Dolby Atmos, yet also matches the tone and fidelity of Pioneer's standard compact and floorstanding speakers.
A True Two Way Driver
The core of the SP-T22A-LR is an upward-firing concentric speaker array with a 1/2-inch soft-dome tweeter mounted in the center of a 4-inch woofer. The SP-T22A-LR's tweeter is the key to the add-on speaker's superior sound quality with high-frequency reproduction comparable to that of a high-quality conventional speaker. Because the tweeter is mounted at the center of the woofer, the cone acts as a 'horn' to control the tweeter's dispersion. The 4-inch woofer used in the SP-T22A-LR uses a cone with a textured surface, which makes it stiffer than a flat-surfaced cone. This design pushes distortion to much higher frequencies, far outside the woofer's effective range, so the SP-T22A-LR can play much louder without audible distortion. Thanks to the separate woofer and tweeter, the SP-T22A-LR has much more natural and spacious-sounding treble than Atmos-compatible speakers that use a full-range driver.
The SP-T22A-LR add-on speakers can transform your conventional 5.1 or 7.1 home theater system into an immersive cinematic experience. Paired with a Dolby Atmos enabled AV receiver, these add-on speakers make upgrading your home theater seamless, convenient and affordable.